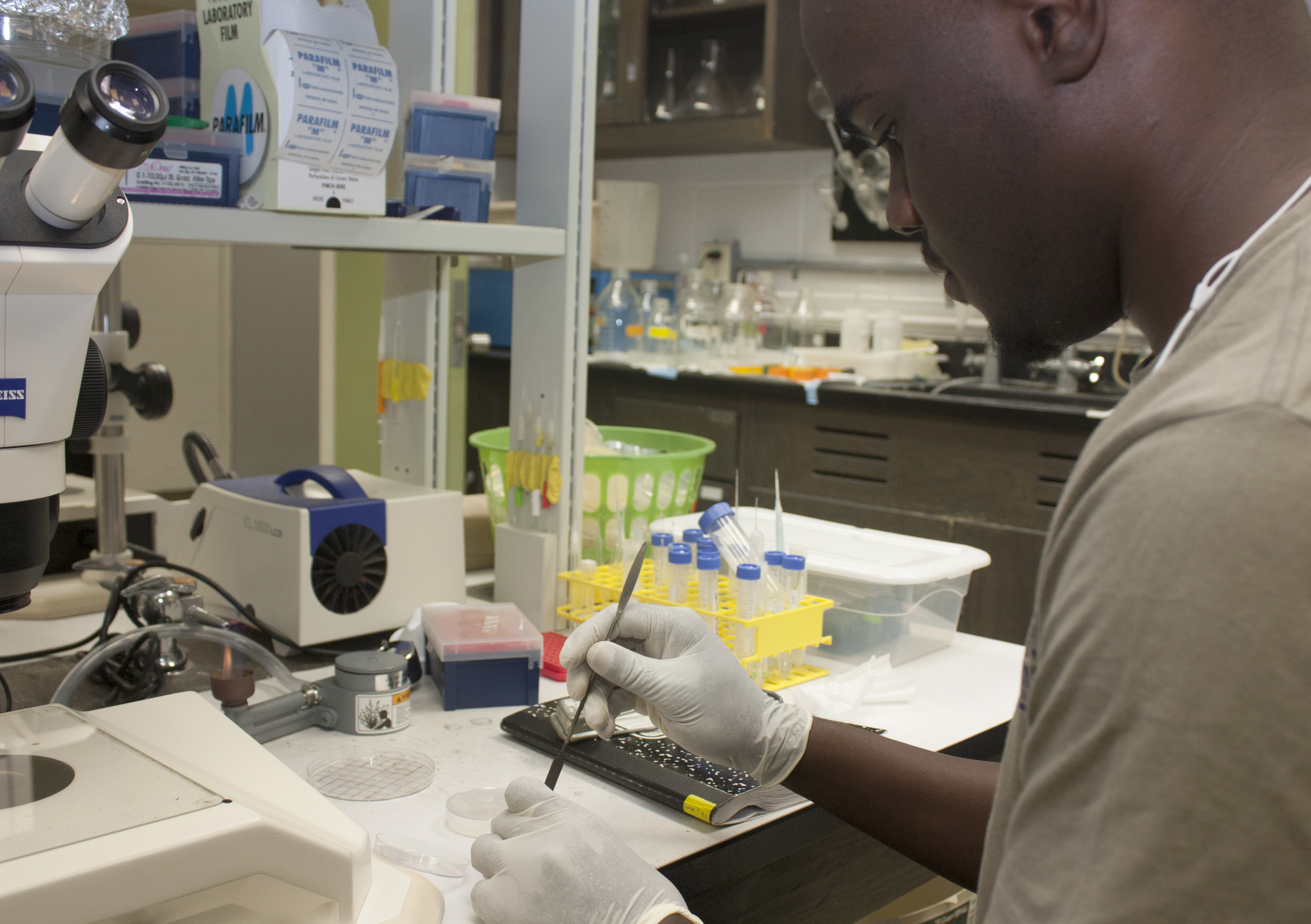 The Genetics and Genomics Graduate Program only admits new students during the Fall semester. Applications for Fall are now being accepted. Currently, we do not have a Master's degree program.
Application Information
The deadline for receipt of applications is December 1 each year. There is no guarantee that materials received or completed after that date will be reviewed by the Graduate Admissions Committee. Note that we admit new students only one time during the year. Notification of admissions decisions are generally made starting from early March and continuing until April. The graduate program begins in the Fall semester.
Routine questions about the program and the application process can be directed to the Graduate Coordinators Maury Swanson and Doug Soltis. Questions about admissions decisions and detailed questions about the program can be directed to the Graduate Program Assistant Hope Parmeter.
Financial Aid
First year funding is provided by the graduate program. In subsequent years, funding will be provided by research assistantships, fellowships, teaching assistantships, or some combination of these mechanisms, provided by your dissertation mentor.
The University of Florida and other organizations offer the following graduate fellowships:
Presidential Fellowships
Alumni Fellowships
The Genetics Institute will make every effort to ensure that students have support for 4-5 years while a PhD student. All appointments are contingent on satisfactory progress in the program. Visit the Graduate School or the Office of Minority Graduate Programs for additional funding opportunities.
---
How to Apply
STEP 1: Apply to the University of Florida
Apply via the University of Florida Graduate School web page.
Please select the button for Genetics & Genomics, noting that this program is not IDP Biomedical Sciences-Genetics. To ensure that your application is routed correctly, please email  Hope Parmeter , the graduate program assistant, and let her know that you have applied.
All documentation for admission to the University of Florida Graduate School must be official/original records.  Transcripts, GRE scores, degree, and TOEFL (International only) must be in English and must be submitted in accordance with the UF Graduate School application. Submit via the UF Graduate School application system
Mailing Address:
UF Office of Admission
PO Box 114000 (201 Criser Hall)
Gainesville FL 32611-4000
* You do not have to submit the fellowship/assistantship application.
STEP 2: Contact the Department
Contact the Program Assistant, Hope Parmeter- parmeter@ufl.edu, to notify her that your application has been submitted. If you have received a UF ID number, please include it in your correspondence.
STEP 3: Letters of Recommendation
3+ Letters must be submitted online via the University of Florida Graduate School system.  Paper letters will not be accepted.  These letters are a vital part in the decision for admission to our program, the more the better.
STEP 4: Official Test Score Reports.
Official GRE (everyone) and TOEFL (international applicants) score reports must be submitted directly to:
University of Florida
GRE: Institution code 5812
TOEFL: Department code 0609 "Medical Sciences" (international applicants)
STEP 5: Statement of purpose (letter of intent)
Submit via the UF Graduate School application system
STEP 6: CV
Submit via the UF Graduate School application system
STEP 7: Application Fee
An application fee of $30 is required and it is nonrefundable.
Pay via the UF Graduate School application system
All steps must be completed before your application will be considered for the Genetics & Genomics PhD program. Questions? Please contact Hope Parmeter, parmeter@ufl.edu.